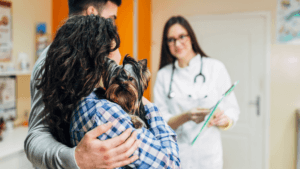 If you've ever had to visit an emergency animal hospital, you know that very quickly after agonizing over whether your furry family member will be okay, another thought arises: "How much will this cost?" To ease concerns about the cost, more and more pet owners are choosing to invest in pet health insurance.
Pet health insurance is designed to cover the unexpected costs of veterinary care, including accidents, illnesses and injuries. There are more than 20 different pet health insurance providers, so doing some research can be helpful to learn which ones offer the coverage that's right for you. Ask your veterinarian if they recommend any companies or visit PetInsuranceReview.com, an independent website that allows you to easily compare the options.
How Pet Insurance Works
When you enroll, you'll choose a level of coverage, or how much the insurer will pay – usually between 70% and 90% of the total veterinary bill – and a deductible, or the amount you'll pay out of pocket before your coverage kicks in. Those levels help determine the cost of your monthly premium. Most providers' websites offer free customized quotes for your pets, so you can get a sense of pricing. Depending on the plan you choose, your monthly premium could be as low as a few dollars a day.
Why not just put that money into a savings account? Because most plans give you immediate access to far more money than you might be able to save. Under most plans, the pet owner pays the veterinary hospital at the time of service, then they submit a claim to the insurance company, which reimburses them their portion of the cost.
Why You Need Pet Health Insurance
It's helpful to think of pet health insurance like car insurance – you hope that you never need to use it, but if an accident does happen, you're extremely glad it's there! It also functions similarly. Imagine you bring home a shiny new car. You take excellent care of it, but one day, you are rear-ended at a red light. Your car needs to be towed and repaired, and you need a rental car for a week.
Now, swap the car for a furry friend: You welcome a cat into your family, and you take excellent care of her. But one day, she stops eating and doesn't seem like herself. You take her to your primary care veterinarian's clinic or a 24/7 animal emergency hospital for evaluation. Diagnostic tests reveal she's ingested some string. Surgery is successfully performed, your cat stays overnight for monitoring, and she goes home with medication the next day.
Both the automobile and the cat scenarios could end up costing thousands of dollars to the owner if it wasn't for insurance coverage. But because each owner knows they only must pay a small percentage of the grand total, they have peace of mind that they can afford the repairs/treatment needed.
Your pet's injuries and illnesses can usually be covered by a health insurance policy, if they are not pre-existing – meaning they weren't already evident when the policy was enacted. Emergencies not deriving from pre-existing conditions are generally covered, including traumatic injuries like broken bones, lacerations and wounds.
Beyond Pet Insurance – Financing Options
Pet health insurance isn't the only payment option we recommend to help cover the cost of your pet's care. CareCredit and Scratchpay are two healthcare financing companies that allow you to space payments out over time. Text the word "pay" from your cell phone to (817) 900-2000 for links to each of these options.
Emergency animal hospitals are well equipped to handle most sudden illnesses and injuries. At Burleson Emergency Animal Hospital, we have a highly skilled and compassionate team of veterinarians and technicians, sophisticated diagnostic tools, and an onsite lab and pharmacy that together may help save your pet's life.
If you have questions about pet insurance, other payment options, or think your pet is experiencing an emergency, please call us 24/7 at (817) 900-2000.