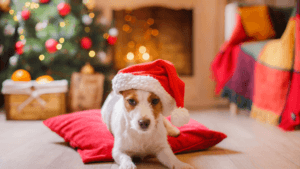 The holiday season can be festive fun for the whole family, but it can also spell disaster for curious cats and inquisitive canines. Holiday health hazards abound for pets, and while you may know not to let your dog eat the chocolate cookie that falls on the floor, you may not know about all the other trouble your pet can unwrap.
And a Partridge in a Pear Tree
We all want to share the joy of the season with our pets, but some things should be kept well out of paws' reach. Let's start with our top 10 most common emergency illnesses and injuries we see during the winter holidays.
Plant Toxicity
You may not think they're appetizing, but many of the decorative plants and flowers we bring into our homes during this time of year are toxic to dogs and cats. Mistletoe, holly, amaryllis, lilies of any kind, pines and poinsettia can cause varying degrees of illness, from vomiting to life-threatening shock.
The Christmas tree may drink water, but that doesn't mean your pet should also partake. The tree can leak bacteria, sap and fertilizers into the water, making it toxic.
Chocolate Toxicity
Remember, the darker the chocolate, the more dangerous it can be. Baking chocolate and all treats containing chocolate should be sealed and placed out of reach.
Alcohol Toxicity
You may not intend to share your cup of cheer with your pet, but if drinks are left unattended, they may help themselves to a sip. Keep full or open containers away to avoid a sneaky lick.
Pancreatitis
Feeding leftovers to pets is a bad idea for many reasons, especially if they are high in fat. Ham, turkey trimmings, stuffing and gravy all can lead to inflammation in the pancreas, which overworks itself trying to break down those foods.
Xylitol Toxicity
Xylitol is often used in sugar-free foods (including some peanut butter) as an artificial sweetener, but it is anything but sweet to dogs. It decreases blood sugar levels and increases insulin production, causing liver damage.
Lacerations
Those antique glass ornaments may be beautiful, but if they shatter, your pets may not value them much. If your cat likes climbing your Christmas tree, forego them altogether, or hang them securely and high enough so dogs can't knock them down.
Foreign Body Obstructions
Some pets will eat anything, and many veterinarians have tales of turkey bones, ornaments, wrapping paper and more that they've removed from pets' stomachs or intestines around the holidays. Cats in particular like ribbon and tinsel, which can become wrapped around the tongue and anchor in the stomach.
Underfoot Injuries
Puppies and kittens that find new homes this time of year can sometimes be hurt when they're accidentally dropped or stepped on.
Preventable Illness
It's easy to forget that routine care is essential for our pets, especially during the busy holiday season. But skipping vaccines or flea, tick and heartworm preventives could end up leading to an otherwise avoidable emergency.
Medication Poisoning
While many visits may be virtual this year, be wary of anything guests may bring into your home. Human medicines are not intended for pets, and an unattended handbag containing Grandpa's blood pressure pills could lead to an unwelcome end to the celebration.
Pet-Proof Your Holiday
Prevention is always a good approach, so keeping holiday hazards away from your pets is the first step to enjoying a smooth season. You've heard of baby-proofing; now try pet-proofing! Try to put yourself in your pet's shoes to see where the dangers may lie. If your dog is a natural trash compactor, any decorations, gifts, or tabletop items that are at his level should be strictly avoided.
In general, these are some solid suggestions:
Keep toxic plants out of your home. The faux ones look just as good and can be reused every year!
Keep all human foods and treats out of reach, including the trash and recycling, as well!
Keep candles away from pets, ensure they are sturdy (think jars rather than tapers), and never leave them unattended while lit.
Burleson Animal Emergency Hospital is Open 24/7/365
At Burleson Animal Emergency Hospital, our experienced team of emergency veterinarians and technicians are available to provide comprehensive and compassionate care for your cat – and dog – any time day or night – including the holidays.
If you believe your pet is having a medical emergency and requires emergency veterinary care, please contact our team immediately at (817) 900-2000. We will prepare for your arrival and discuss our current safety protocols.